Essential Health and Safety Courses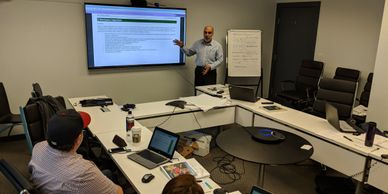 Emergency Preparedness
Fire Safety Awareness
Hazard Identification & Risk Assessment
Incident Investigation
Joint Health & Safety Committee
New and Young Worker Orientation
Principles of Occupational Health & Safety Management System
Supervisor's Responsibilities (ref: Supervising for Safety)
Workplace Inspections
Industry-Specific Awareness Training
Asbestos Awareness
Combustible Dust Awareness
Confined Space Entry Awareness
Contractor Safety Management
Fall Protection Awareness
Field Level Risk Assessment (Non-Routine Tasks)
Hearing Conservation
Industrial Storage Racking
Lockout/De-Energization
Machine Safeguarding
Musculoskeletal Injuries (MSI) Awareness
Transportation of Dangerous Goods (TDG)
Working Alone or In Isolation
Workplace Hazardous Material Information System (WHMIS 2015)
On-Site Lunch & Learns
Training or development event occasionally scheduled during the company lunch hour or lunch period.
Usually less formal and less structured than traditional training events.
Designed to meet the needs of busy organizations who still would like to offer their employees the opportunity to gain information on several occupational health and safety topics with minimal to no disruption to operations.
Each session is

50

minutes with 10 minutes left for questions and discussion.